Shopping Cart
Your Cart is Empty
Thank you for your business!
You should be receiving an order confirmation from Paypal shortly.
Exit Shopping Cart
THYROID Problems and FLUORIDE
There are more than 100 accounts and scientific studies which show a connection between Thyroid Problems and Fluoride.
http://poisonfluoride.com/pfpc/html/thyroid_history.html
http://fluoridealert.org/articles/thyroid-warning/


The thyroid gland plays a huge role in our body, influencing the function of many of the body's most important organs, including the heart, brain, liver, kidneys and skin. It influences our mental abilities, moods, nervous system, hair, skin, nails, bones, weight, GI tract, energy levels, other hormones, etc.
Currently, our modern society is experiencing "an epidemic of Thyroid Problems" compared to just 50 years ago.


In the 1800's, the Fluoride impact upon the Thyroid was first noticed in DOGS.
In fact, from the 1930's up until the 1960's, Doctors would often prescribe Fluoride to patients who had an overactive Thyroid.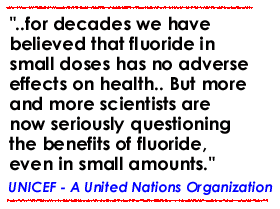 THIS PAST WEEK's NEWS
Go to the "INFO & RESOURCES" page to see what the nationally famous and local organic gardening guru, Howard Garrett "The Dirt Doctor", says about Fluoride!
~~~~~~~~~~~~~~~~~~~~~~~~~~~~~~~~~~~~~~~~~~~~~~~~~~~~~~~~~~~~~~~~~~~~~~~~~~~~~~~~~~~~~~~~~~~~~~~~~~~~~~~~~~~~~~~~~~~~~~~~~~~~~~~~~~~~~~~~~~~~~~~~~~~~~~~~~~~~~~~~~~~~~~~~~~~~~~~~~~~~~~~~~~~~~~~~~~~~~~~~~~~~~~~~~~~~~~~~~~~~~~~~~~
The Primary Reason a Noble Cause Fails

The Dallas Issue on Fluoridation is a LANDMARK DECISION.
If the internationally recognized City of Dallas chooses NOT to Fluoridate its drinking water, chances are that other cities will follow like dominoes.

The Primary Reason a Noble Cause Fails…
(Remember this, because it has to do with YOU and your own personal value.)

The primary reason that a noble cause is lost is that good people fail to act, fail to do something, fail to speak out.
They may support the noble cause, but only with soft intellectual ideas in the head – and thus "no action".

And the thing is…anyone, anywhere, on any noble cause, can DO something.

Civil Rights failed in the early 50's because good people remained silent.
(There are people alive today, who while "supporting" Civil Rights, were too weak to actually DO something. In this era, how can a person tell their grandchildren that they "sat on the bench" during Civil Rights?)

Hitler was not really responsible for embroiling the world with his evil. Despite Germany being a strongly oriented Christian nation, good people did nothing to speak against the tyrannical injustices while singing in the church choir. And, at that time, other countries as well were guilty of the same "sin of omission".

The omission of ACTION is the primary reason that injustice and false ideas overwhelm the sanity of a nation.

So, it boils down to YOU.

Steel your spine.
Have courage.

"In the End, we will remember not the words of our enemies, but the silence of our friends." - Martin Luther King, Jr.
Martin Luther King, Jr. emphasized that important point on many occasions. It is the cold, hard truth...

Someone who is Anti-Fluoride, but fails to act, might as well be on the Pro-Fluoridation camp. They are part of the problem. They have lost the right to "complain" about this poison in the water which affects the health of millions of people. Their inaction does adversely affect the health of millions.

Dallas is a pivotal event. The nation will follow. Be a part of history.

And be proud to tell your children's children what you have done!!!!


Because someday (like lead in gasoline), Fluoride will be internationally recognized for the poison that it is.
~~~~~~~~~~~~~~~~~~~~~~~~~~~~~~~~~~~~~~~~~~~~~~~~~~~~~~~~~~~~~~~~~~~~~~~~~~~~~~~~~~~~~~~~~~~~~~~~~~~~~~~~~~~~~~~~~~~~~~~~~~~~~~~~~~~~~~~~~~~~~~~~~~~~~~~~~~~~~~~~~~~~~~~~~~~~~~~~~~~~~~~~~~~~~~~~~~~~~~~~~~~~~~~~~~~~~~~~~~~~~~~~~~
We love to get Dog Pictures with relevant captions!

Please, please send them.

In the Subject Header, be sure to describe the nature of the email & Photo description(s).

(Add your dog's name on the photo if you can.)



EMAIL CONTACT

Dogs Against Fluoridation!! Contest!

0

/